YOUR HUNT
Deer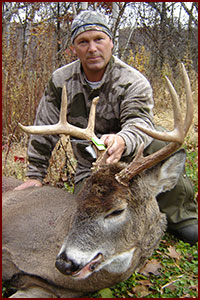 World Record Whitetail: You can except to see trophy caliber whitetail that range from 130" to 190" on any given day. We have multiple tracts of strictly managed un-pressured premium whitetail properties. Bluff Bucks Outfitters attains over 4,000 acres that have been QDM since the 1980's. Each stand location is remained fresh until you arrive to ensure the most phenomenal opportunity at a world-class whitetail.
We consistently maintain each exclusive property year round with food plots, seasonal shed hunting, build watering holes, and create new mineral sights. Hundreds of pre-set stands are already hung, posted, and ready for you. You will be happy to hear that we provide an assortment of stand methods for your convenience, such as ground blinds, towers, 2-man ladder stands, hang-ons, and much more. We are highly conscious about hunting specific stands under certain circumstances. Time of year, food sources, wind direction, trail-cams, deer behavior, weather patterns, and so much more are calculated daily to ensure you're in the most desired location.
The following data and analysis has been collected over the last 3-years:
Over 80% shot opportunity at a trophy buck
145" buck kill average
Hundreds of undisturbed tree stand and ground blind hunting locations
Over 4,000 acres in QDM
Fully-Guided
Hunting dates: September - January
Bow, muzzleloader, & rifle hunts
Trail Camera
Technology has greatly advanced our big buck strategies. As trail-cam pictures can attest, our deer aren't nocturnal like so many pressure outfitting businesses around the Midwest. We've captured just as many monster Buffalo County bucks on camera during daylight hours than night. Trail-cameras are run nearly all year. You will have a firm idea of the trophy bucks you'll be chasing before you sit in stand.
Turkey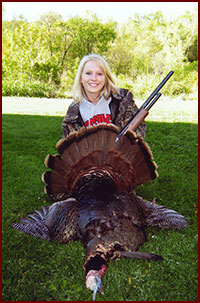 Bluff Bucks Outfitters specialize in providing you a remarkable Eastern species wild turkey hunt. We have over 4,000 acres of prestigious turkey hunting grounds in Zone #1. Your turkey hunt will be pre-scouted days before you arrive to ensure your hunt will be outstanding.
Our turkey hunts have been nearly 100% success over the last 4-years and are perfect for a father/mother, son/daughter combination. We will do everything we can to put you in front of a mature Buffalo County, WI gobbler.
Our fully guided hunts include an all-inclusive package of the following:
Fully Guided
Homemade Meals
5-Star Lodging
Transportation
Decoys
Blinds
The non-resident need not worry about drawing permits because they can be obtained over the counter. Please
contact us
or (
click here
) for further information about turkey hunting.
A) April 14 - 18
B) April 21 - 25
C) April 28 - May 2
D) May 5 - 9
E) May 12 - 16
F) May 19 - 23

Accommodations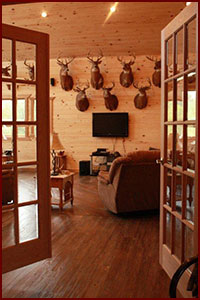 We are pleased to offer you Buffalo County, Wisconsin's first five star hunting lodge, featuring trophy whitetail and exceptional wild turkey hunts. Come and experience your dream hunting retreat on our majestic Mississippi River bluff's estate. Combine the ultimate hunting experience with a five star atmosphere, and our professional staff, provides the superlative outdoor refuge for you.
Nestled in the rolling hills and beautiful mixed hardwoods of Western Wisconsin, our scenic setting is truly an outdoorsmen's haven. Bluff Bucks Outfitters dedicated years of devotion to the prime management of our herd and treasured land has allowed us to offer once in a life time world class trophy whitetails hunts.
You will dine in our 5-star lodge and enjoy the true 'camp atmosphere' camaraderie with fellow clients and your guides. We will entertain you with lavish meals, cozy lounge areas, and free WI-FI connection. You can expect the following furnished comforts in our lodge and rustic private cabins:
Exquisite homemade meals
Full access to drink and snack bar 24/7
Full access to personal shower & bathing units
Full access to laundry room
WI-FI High Speed Internet Connection
HD Satellite TV
DVD Video Player
You will sleep in one of our luxurious private cabins, which makes for a delightful rest. The cabins are fully furnished and have everything you'll need during your stay.
Book Hunt
Call for pricing and availability: (608) 685-4736
| | | |
| --- | --- | --- |
| Archery Hunt | -- 5 Day -- | Call |
| Archery Hunt | -- 3 Day -- | Call |
| Black Powder | -- 4 Day -- | Call |
| Spring Turkey | -- 5 Day -- | Call |
Meals and
Lodging
included with all hunting packages.
How to Reserve Your Hunt
Contact us to insure the availability of dates. Reserving a date can be done by phone. The request will be held for seven business days.
1/2 of the hunting cost is required when your hunt is booked; the rest of the cost is due by August 1st.
Due to natural risks inherent to all wilderness recreations, clients are required to sign an "Acknowledgment of Risk" form.
Upon booking you will receive:
Booking confirmation
Detailed list of proper gear
Questionnaire (diet, health, experience & emergency information)
Travel information
"Acknowledgment of Risk" form
Antler Restriction:
There is a 130" minimum on 8 and 9 point bucks. All other bucks must be a 140" minimum. If this requirement is not met, there is a $1000 fine.
Wisconsin Hunting Licenses:
WHITETAIL
TURKEY
Resident
-- $ 24.00
Resident
-- $ 15.00
Non-Resident
-- $ 160.00
Non-Resident
-- $ 60.00
PLEASE CHECK THE WISCONSIN DNR'S
WEBSITE
FOR ANY CHANGES.
Wisconsin Department of Natural Resources:
Online license purchases and updated info: dnr.wi.gov
Feel free to
contact us
with questions and/or comments.